Organised by Fabrice Thumerel, this first international conference dedicated to the works of Annie Ernaux – Annie Ernaux, une oeuvre de l'entre-deux ['Annie Ernaux, writing the in-between'] – took place at the University of Artois in Arras in November 2002, with Ernaux in attendance. Its proceedings were published by Artois Presse Université in 2004.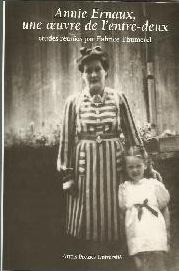 Presentation note:
À la fin de La Place, Annie Ernaux nous fait part de sa déception à la lecture d'un volume dont le titre, L'Expérience des limites, était prometteur : à son plus grand dam, « il n'y était question que de métaphysique et de littérature ». Or, l'expérience des limites, elle a le sentiment de l'avoir connue dans sa vie de jeune fille et de femme issue d'un milieu populaire. L'expérience des limites, elle l'a menée dans une œuvre pluridimensionnelle (romans autobiographiques, autosociobiographies, journaux intimes et « extimes ») en explorant son entre-deux social et se jouant des frontières entre genres et disciplines.
Les participants à ce premier colloque international consacré à l'œuvre d'Annie Ernaux, venus de multiples horizons géographiques et critiques, ont analysé les aspects les plus divers de l'entre-deux : sociologiques, psychologiques ou psychanalytiques, thématiques et (inter)textuels – sans oublier de s'arrêter sur ces formes auto(socio)-biographiques particulières qu'offre l'écriture journalière. La présence de l'auteur, qui est intervenue activement et a pris part à une table ronde, a renforcé l'intérêt des débats. Au reste, la confrontation de la voix auctoriale avec différentes manières de critiquer n'est pas sans importance : c'est une façon d'insister sur la nécessaire circulation du sens entre auteur, textes et lecteurs – instances que la critique n'a que trop souvent disjointes.