Organised by Fabrice Thumerel, this first international conference dedicated to the works of Annie Ernaux – Annie Ernaux, une oeuvre de l'entre-deux ['Annie Ernaux, writing the in-between'] – took place at the University of Artois in Arras in November 2002, with Ernaux in attendance. Its proceedings were published by Artois Presse Université in 2004.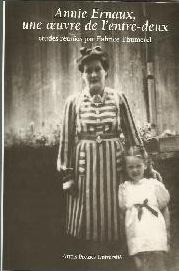 Introductory comments
At the end of A Man's Place, Annie Ernaux shares with us the disappointment she felt on reading a book whose title, The Experience of limits [1], was so promising. Much to her dismay, 'all it was about was metaphysics and literature'. But, as a woman with working class roots, she seemed to have been living her own 'experience of limits' since she was a young girl. This experience of limits has given rise to a multidimensional form of writing – autobiographical novels, auto-socio-biographies, both intimate and 'extimate' [2] diaries – in order to explore the social in-between space she inhabits, playing with the frontiers between genres and disciplines.
The participants at this first international conference dedicated to the work of Annie Ernaux, who came from many geographical and critical spheres, analysed the most diverse aspects of this in-between space – sociological, psychological or psychoanalytical, thematic and (inter)textual – whilst also being mindful of the particular auto(socio)-biographical forms offered by diary-writing. The presence of the author, who actively participated throughout, and took part in a round table discussion, strengthened the interest of the debates. Furthermore, the juxtaposition of the author's voice with different kinds of criticism is significant, not least in the way it brings out the necessary flow of meaning between author, texts and readers – aspects which literary criticism has all too often separated.
Translated by Jo Halliday.
[1] 'L'Écriture et l'expérience des limites', Philippe Sollers, 1968.
[2] Journal extime in French: this term is used to describe Ernaux's 'diaries of the outside', Journal du Dehors (Exteriors) and La Vie Extérieure (Things Seen), where she describes her encounters with others in public spaces such as trains and supermarkets.