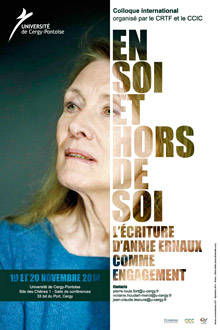 The conference which took place in Cergy in 2014 shed light on the notion of engagement in Annie Ernaux's works: engagement is to be understood as political commitment, but also commitment in society, and commitment in, and though writing. Through this lens, the conference organisers, Pierre-Louis Fort and Violaine Houdart-Merot, invited pluridisciplinary approaches. This conference was also significant in terms of its location: Cergy, the town where Ernaux has been living since the end of the 1970s. On this occasion, Annie Ernaux received an honorary doctorate from the university of Cergy – the only one that she has accepted to this day.
The conference proceedings, Annie Ernaux, un engagement d'écriture (dir. Pierre-Louis Fort et Violaine Houdart-Merot, Presses Sorbonne Nouvelle, 2015), include an interview with Ernaux.
Interview with Pierre-Louis Fort and Violaine Houdart-Merot, conference organisers
What were your objectives in organising the conference in Cergy in 2014?
We had two objectives when organising this conference at our university, in Cergy-Pontoise, in discussion with Jean-Claude Lescure, professor of history at CY.
Firstly, we wanted to pay homage to this prominent writer who has been living in Cergy since the end of the 1970s and who takes pride in living in a 'Ville nouvelle' ('New Town') which, in a way, reflects her own status as having moved from one social class to another. As she explains, Cergy, 'across the years, changed [her] outlook on the world and on writing' and directly inspired several of her books: Journal du dehors (Exteriors, 1993), La vie extérieure(Things seen, 2000) and Regarde les lumières mon amour* (2014).
It was an honour to welcome Annie Ernaux to this conference. She took an active, fascinating part in discussions, and the conference was also the opportunity to award her an honorary doctorate. As she explained in an interview for the newspaper Le Parisien in 2014, Annie Ernaux accepted this award – despite her reticence about marks of distinction – 'because it made sense'. It made sense in two ways, as Pierre-Louis Fort highlighted during this award ceremony, firstly as an expression of recognition from the University, and secondly because it is in Cergy, a New Town where she managed to find her 'place' and which allowed her to express 'distance' in her writing, as she explains.
In line with the previous conferences on Ernaux, and complementing these events, we wanted to consider a relatively unexplored, yet crucial dimension of her work: its engagement, commitment or implication in a broad sense, that is to say, a sense of commitment in and through writing. We wanted to grasp this dimension in its multifaceted dimensions: political, social, human, and literary.
In your opinion, what role does Ernaux play in the contemporary literary field?
In an article published in La Quinzaine littéraire in February 2016 (n° 1145), written in response to the publication of our conference proceedings,  Sabine Huynh wrote, Annie Ernaux 'has changed the way we perceive literature and its role'. Indeed, Annie Ernaux has completely transformed literature: thanks to her works, writing in the first person has become 'writing of the we', the traditional, intimate diary has become 'extimate', open and present to the world. It is undoubtedly this constant attention to others, this ability to sit 'within oneself and outside oneself' (our conference title), which explains the enduring power of this oeuvre on its reader, this ability to 'save' others.
Annie Ernaux is, without a doubt, one of the most significant writers in the contemporary literary field. Her dense, rich body of work has allowed her to garner a very broad readership, not only in France but also abroad.
Since that conference took place, which publications by Annie Ernaux do you view as particularly significant?

It is difficult to answer this question, since each book by Annie Ernaux, from her very first publications, has been a significant step in her work. During our conference, particular attention was paid to Regarde les lumières mon amour, which had been published shortly before, and which focuses on Cergy's main shopping centre. In an unusual way, this book reflected the direct implication of Ernaux in society.
The publication of Mémoire de fille [A Girl's Story] in 2016 once again radically transformed Annie Ernaux's mode of representing the self in relationship with others . In this book, the alternation between 'je' [I] and 'elle' [she] is a  particularly interesting device which creates narrative tension. Reading this 'text which had been the missing piece, always postponed, the  gap that could not be expressed', as Ernaux explains in the first pages of the book, has opened new critical perspectives, not only on this text but on her entire works.
*
Regarde les lumières mon amour (Look at the pretty lights darling) has not been translated into English to date.
[Translation into English: Elise Hugueny-Léger & Lyn Thomas]