From 6 to 13 July 2012, the conference 'L'oeuvre d'Annie Ernaux: le temps et la mémoire' ['The works of Annie Ernaux: Time and Memory'] took place at the Centre culturel international in Cerisy-la-Salle (programme). Organised by Francine Best, Bruno Blanckeman and Francine Dugast-Porte, the week-long conference allowed for rich discussions – in which Ernaux took an ample part – around many of the dynamics which structure the works of Ernaux and its reception: memory, history, writing, domination and power.
The volume Annie Ernaux, le temps et la mémoire (Stock, 2014) emerged from the conference.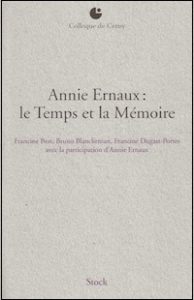 Presentation note:
This book brought together researchers from a range of disciplines. Each chapter is followed by a response from Annie Ernaux, and an account of the discussion that took place at the conference, thus giving the whole the appearance of spontaneous conversation.
Time and memory are the principal thematic threads running through the book. They are tackled from several perspectives: the evolution of social groups, the question of humiliation, shame and the problem of cultural hierarchies, or, indeed, the creation of women's cultural memory. Writing, for Annie Ernaux, is about trying to capture the multiple dimensions of lived experience, balancing the pressures of History and the power of memory in the representation of collective as well as personal life. Revitalising critical approaches to Ernaux's works through a particular attention to their textual qualities, which have sometimes been sacrificed in favour of a purely sociological approach, this book allows us to measure their full wealth and power.
(Translation into English by Lyn Thomas)